Title: Firebreak
Author: Nicole Kornher-Stace
Genre/s and tags: New Adult, Science Fiction/Fantasy, Dystopia, LGBTQ+
Publisher: Gallery / Saga Press
Publication date: May 4, 2021
Content warnings: Violence, kidnapping, torture, war, capitalism, police brutality
Goodreads synopsis: 
Like everyone else she knows, Mallory is an orphan of the corporate war. As a child, she lost her parents, her home, and her entire building in an airstrike. As an adult, she lives in a cramped hotel room with eight other people, all of them working multiple jobs to try to afford water and make ends meet. And the job she's best at is streaming a popular VR war game. The best part of the game isn't killing enemy combatants, though—it's catching in-game glimpses of SpecOps operatives, celebrity supersoldiers grown and owned by Stellaxis, the corporation that runs the America she lives in.

Until a chance encounter with a SpecOps operative in the game leads Mal to a horrifying discovery: the real-life operatives weren't created by Stellaxis. They were kids, just like her, who lost everything in the war, and were stolen and augmented and tortured into becoming supersoldiers. The world worships them, but the world believes a lie.

The company controls every part of their lives, and defying them puts everything at risk—her water ration, her livelihood, her connectivity, her friends, her life—but she can't just sit on the knowledge. She has to do something—even if doing something will bring the wrath of the most powerful company in the world down upon her.
A big thank you to Gallery / Saga Press for sending me an advanced reader's copy!
(This, of course, did not affect my overall opinion of the book.)
Hello book nerds! It's May! How are the days going by so fast?! For now, though, I'm here to talk about the best book I've read in April—Firebreak by Nicole Kornher-Stace!
Let me tell you now that this book is hands down one of my favorite/top reads this 2021. And to think that I didn't even know about this book earlier this year, so I didn't know exactly what to expect. All I knew was that the synopsis sounds so good and that there is aro/ace rep. Now I can say I wholeheartedly say that I'm so in awe of it!
Firebreak is a thrilling and immersive adult science fiction debut that's full of action and heart. Think Hunger Games, but with a VR war game, social media, and capitalist megacorporations that need to be dismantled.
My thoughts on Firebreak
The first thing I can say about Firebreak is how action-packed it is. I remember reading the first chapter and just reeling at the end of it. It continues with the rest of the book. Whether it be Mal and Jessa streaming the BestLife game, or in reality where they encounter the real-life mechs and SpecOps operatives.
This book is also incredibly immersive. And I'm not just talking about the virtual reality game they have in the story (although that's pretty immersive and impressive, too haha!) I'm also talking about the overall world-building, the eeriness of the futuristic setting where megacorporations have taken over, war tactics and social media intertwined. It was all so riveting, and you just want to keep reading because of these. Loved the writing style as well. I found it so easy to lose myself in the story and just absorb all the details.
The characters in Firebreak are so compelling! The main character, Mal, is especially such an effective narrator. I loved her from start to finish, and I loved reading the story through her perspective. She's smart, and she's not a people person and yet she's still so compassionate. It was great to see her grow and become fierce in her own way. Jessa is another great character in the book. I loved her friendship with Mal and you can just see how much they've been through together as friends and as team streamers of the game. Even the SpecOps operatives and Mal and Jessa's roommates managed to get my attention.
Now, the plot. Believe me when I tell you that the plot of Firebreak is thrilling, and intense, and moving all at the same time. From conspiracy theories, to corporations using mechs and supersoldiers to fight wars with each other, to utilizing social media to dismantle these evil and capitalist corporations, to revolts and protests—this book will take you on a ride. It's such a unique and exciting storyline that I feel like if it weren't written well and if the characters weren't as polished, it would have been confusing and lackluster at best. But the author did such a great job, turning this plot into a compelling message and deliberate chain of events, inserting plot twists that will knock you off guard, and finishing it off with such an impact. The whole thing worked, and it worked so well. Kudos to the author for this!
As for the aro/ace rep, specifically, Mal's platonic crush, it was definitely a refreshing element in the story! I was so excited for a queer SFF novel with an ownvoices aromantic/asexual representation. Seeing Mal's platonic crush manifest just as it would a romantic/sexual crush was really nice. And though the term aro or ace was never used in the story, Mal said so herself that her interest in this particular someone is not romantic. (And also, the rep is confirmed by the author!)
Overall, Firebreak is an irresistibly good book, one that will move you and wreck you. I just know SFF lovers will enjoy this book as well.
---
Buy Firebreak
Amazon | Book Depository | Bookshop | Barnes & Noble
Join upcoming event: FIREBREAK: Reading and Q&A
with Nicole Kornher-Stace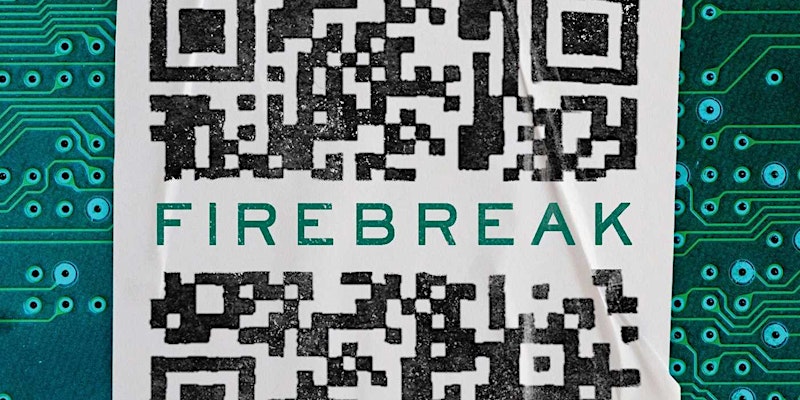 Nicole Kornher-Stace gives a reading from her upcoming novel FIREBREAK, with hosts C. S. E. Cooney and Amal El-Mohtar. Then: a lively Q&A! Click here or the photo to register!

….